UV Ozone and Gas Mixing Unit Overview
The patented UV Ozone and Gas Mixing Unit is a compact, lockable enclosure that is designed to hold an air blower, high output UV ozone lamps, and a starter. The unit is designed to inject UV ozone or other gasses directly into the wastewater effluent to destroy F.O.G. (Fats, Oils, and Grease), Hydrogen Sulfide and other harmful chemicals found in commercial, industrial and municipal waste streams. Low pressure air, <3 psi, is blown across high output UV lamps that produce UV Ozone and hydroxyl radicals.
The air is delivered to one or more DO2E patented Little John Digesters submerged in the effluent. The Digester injects the UV ozone directly into the effluent system through a unique combination of coarse and fine bubble diffusion. These bubbles carrying the UV Ozone are released within the body of the digester. The combination of water pressure and air pressure surrounding these course and fine bubbles within a confined space creates the perfect delivery system which allows the UV ozone to destroy F.O.G. and H2s.
This Ozone and Gas Mixing Unit can also be used as a stand-alone air fogging unit where ozonated air is blown directly in the air cavity where odor is created. This is strictly for odor and corrosion control. This unique patented system is an excellent replacement for chlorine disinfection of discharge wastewater where decolorization is required.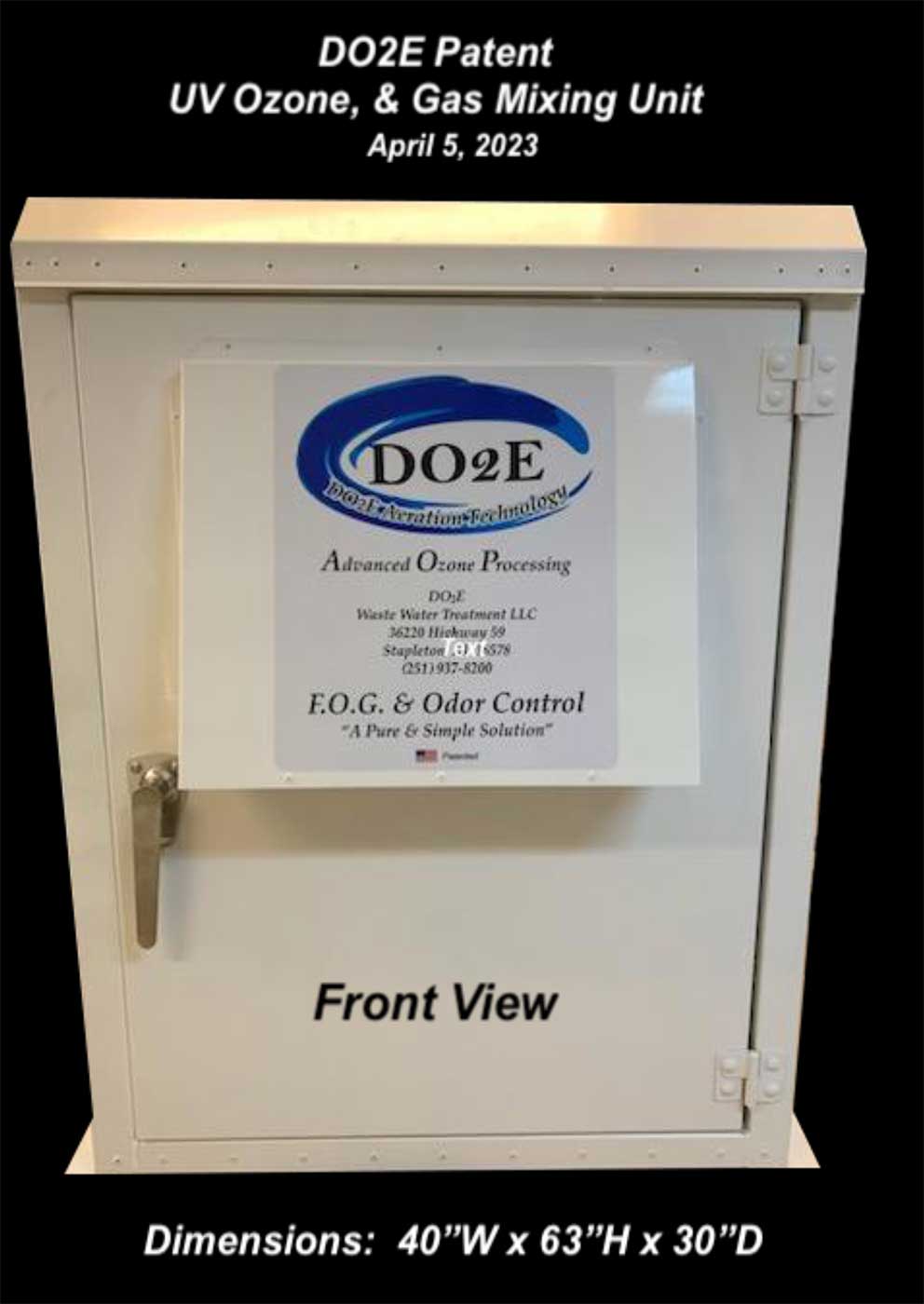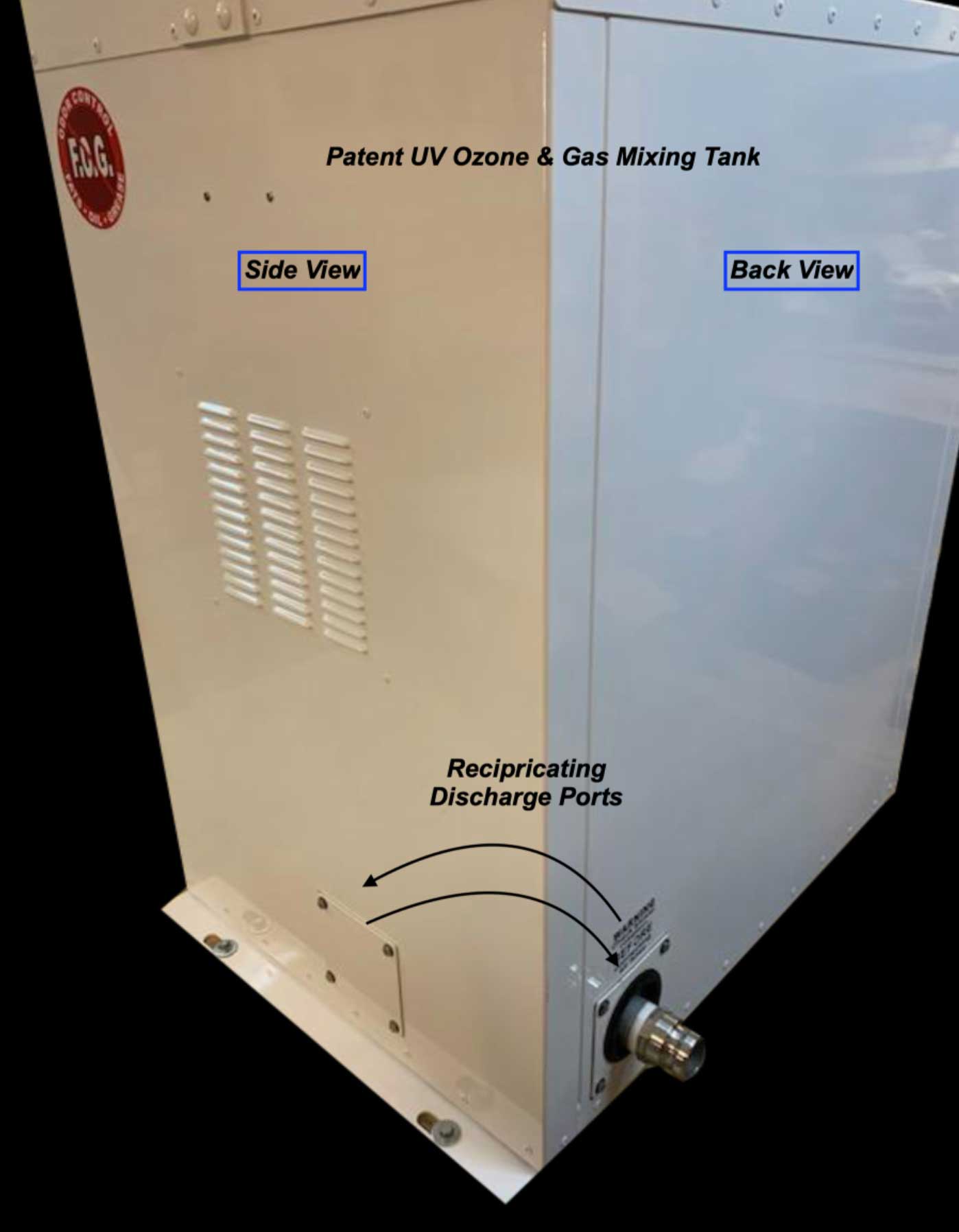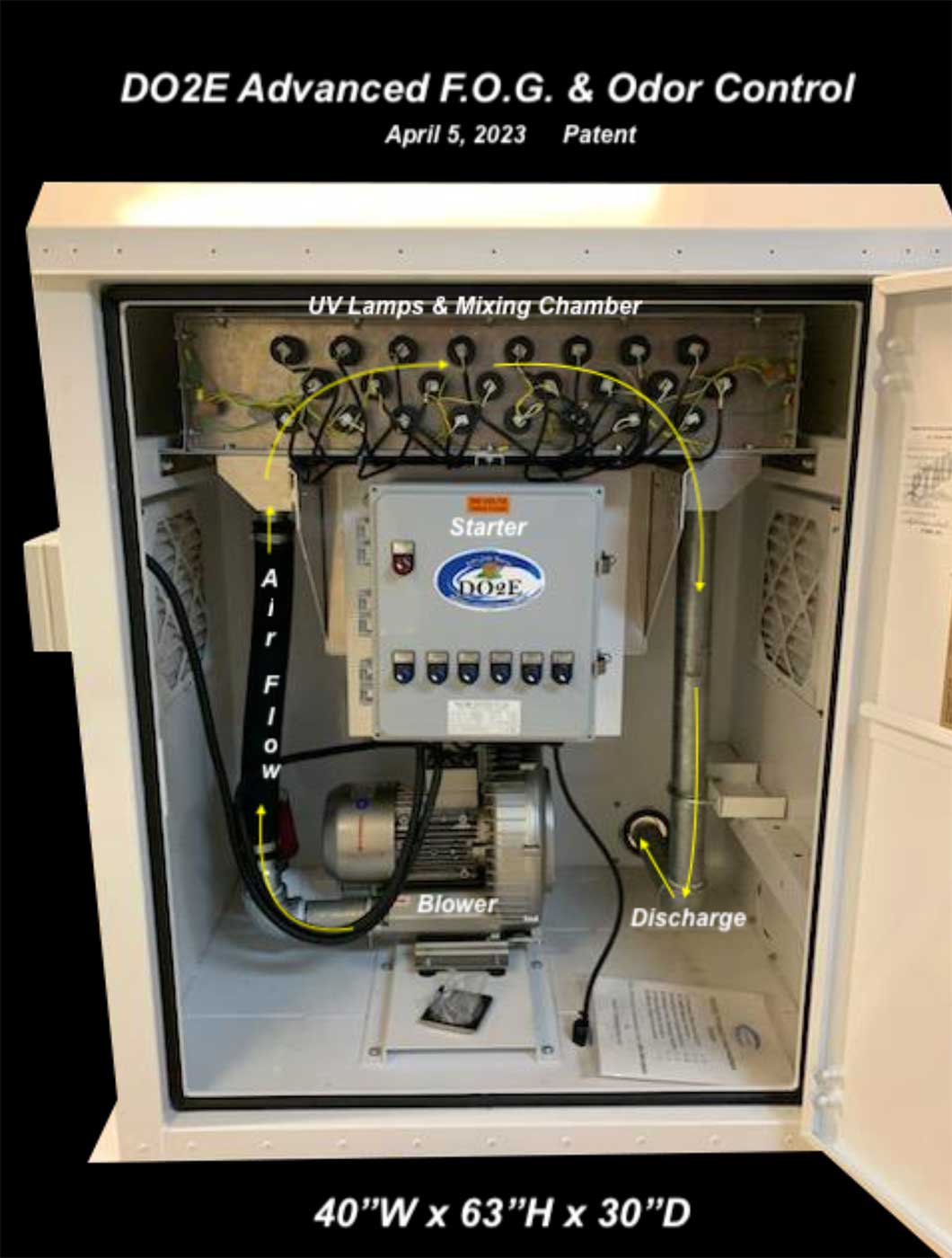 Benefits
Compact / Small Foot Print
Preassembled / Wired
Pretreats Lift Station Effluent by up to 65%
Holds up to 24 High output UV Lamps
High output lamps produce Hydroxyl Radicals
Eliminates Matting Buildup in Pump Stations
Oxidizes: F.O.G. & Odor
F.O.G. Deposits will NOT Reform
Improves workers Safety. ( Reduces man entry into wet wells)
Opens clogged lines by up to 70%
Reduces H2S Gas by up to 99%
Prevents Corrosion
Reduces Pump Outs by up to 98%
Reduces Maintenance by up to 95%
Produces Non-hazardous off gassing.
Energy Efficient
Extends Pump Life by up to 60%
Designed to operate 24 / 7.
Noise level <82 dB at 5' & <60 dB at 20'
Virtually Maintenance free for the first 2 years
Easy & Quick access to UV lamps for replacement
Can be used with or without DO2E Digester
Has a Standard Oxygen Transfer Rate up to 5.78.
It can be portable or mounted permanently.
It can hold up to a 10 Hp Blower
Operates with low pressure (<3 psi) High Volume air.
Call to Find a Sales Rep Near You Today!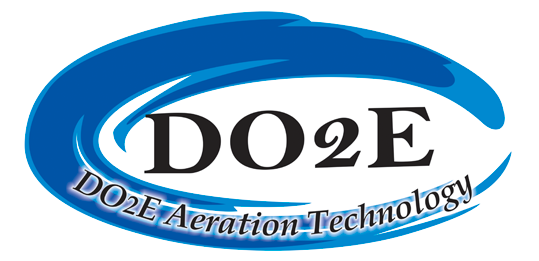 Office
DO2E Waste Water Treatment LLC
29873 Saint Simon Street
Daphne, Alabama 36526
Manufacturing Plant
27472 Wilcox Road
Robertsdale, Alabama. 36567
Phone
Office: (850) 698-6805
Hours
Mon-Thur: 8:00 AM–5:00 PM
Fri: 8:00 AM–12:00 PM
Saturday & Sunday: Closed